With California Pizza's exclusive Independence Day Deals, celebrate both freedom and flavor!
California Pizza offers excellent independence deals to make your celebration unforgettable
and keep the spirit of the celebration alive. This Independence Day has offers for everyone,
from small celebrations to big family gatherings. Take a look at these incredible deals.
1) Celebration Deal
2) The Azaadi Deal
3) Freedom Frenzy
Deal 1: Celebration Deal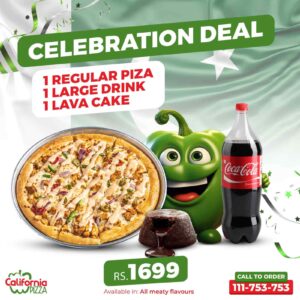 With our celebration deal, you can make your Independence Day celebration special. The deal
includes any regular pizza in the flavor of your choice along with a large drink and
mouthwatering lava cake to round out your celebratory lunch with something sweet. And all of
this for the incredible price of Rs 1699.
Deal 2: Azaadi Deal
With our Azaadi Deal, embrace the freedom to experience mouthwatering flavors! Perfect for a
group of friends who want to share in the excitement of Independence Day celebrations, this
offer is ideal. It comes with a large drink and includes 1 regular pizza and 2 pan pizzas in your
choice of chicken fajita or chicken tikka flavor. And you can enjoy this ideal combo for an
incredible price of only Rs. 2199.
Deal 3: Freedom Frenzy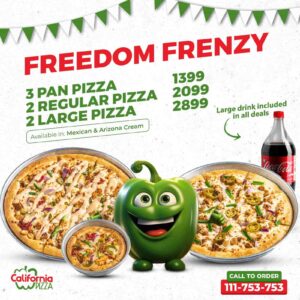 With our Freedom Friendly Deals, you may experience the true essence of freedom! This deal is
ideal for larger gatherings and celebrations because it includes three incredible offers from
which you can select the best one for you. It offers 3 pan pizza for Rs 1399 only, two regular
pizzas that only costs Rs 2099, and two large pizzas for Rs 2899. All of these pizzas will be
served in our premium flavors, which include Mexican and Arizona Cream and will be
complemented by a large drink of your choice.
Final Words
These exclusive Independence Day Deals will be available for a limited time only, so make sure
to grab them while you can. Make this Independence Day truly memorable by taking delight in
California Pizza's tempting offerings! Come together with your loved ones, enjoy the delectable
pizzas, and remember the taste of freedom. Happy Independence Day!!
So wait no more!! Visit your nearest branch today, or visit our website to order online or you
can call us at (021-111-753-753).